Even though there is a writer's strike, we have had an awards show here in GooberStan. No red carpet (we have a white one... with mud stains on it... whatever), but we're just as excited! Here are some of the awards we received at a ceremony that happened several days ago.
Lacy Lulu

and

Momo & her brother Pinot

think we are Bloggers of the WORLD! Thank you for this award. We are humbled and honored.
We also received the You Make My Day Award from a boatload of friends, including Bogart, Koobus, Buster Sephie & Ms. Bailey, and our Scottish bud, Marvin. You all make our day, and we're stinkin' excited that we make yours.

Then, my love pup & Stella's buddy,

Ruby Bleu

, awarded us with the Thinking Blogger Award. This is one award we are most surprised to receive, but we are very pleased by it. We hope we make people think... and not just about the gooberish side of life.
Just today, we found out that our buddy,

Odie

, the Beagle Boy (go visit him ~ he's new to DWB), gave us the Thank You for Being My Friend Award. Thank YOU, Odie BOY! We love that you're our friend!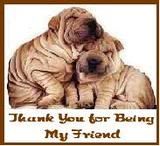 So many pups, hammies, and cats have received these awards already, and as it's taken us a very LOOOONGGGGG time to post about them, we are offering to share these awards with all our buds! Enjoy and know that we LOVE being part of your lives!!
Here is a photo of me, by popular demand. (Someone mentioned they were having goober withdrawal & I can't let that happen).


Goober Love,

Stanley & Stella